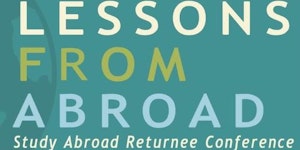 Studying abroad can be a powerful experience, often inspiring you in new ways once you're
back. The transition back to campus can also be overwhelming as you seek ways to apply your experience and new interests back home. That's why UMD Education Abroad is a co-sponsor of the
Lessons from Abroad Conference
for study abroad alumni on
Saturday, October 1, 2016.
Register NOW to join UMD and other DC-area students the for study abroad alumni on Saturday, October 1st. This is a terrific professional development opportunity for you to leverage your international experience and learn about how you can apply this towards your future endeavors.
Conference Highlights:
• Meet other recent study abroad returnees from all over the greater Washington, D.C. area
• Hear from dynamic professionals about their experiences abroad
• Learn how to talk about your newly acquired global skills in a job interview
• Discover how you can work or study abroad after graduation
• Network with professionals working in internationally-focused jobs
• Get your resume personally reviewed by career professionals and those with international work experience
• Stay connected to and share stories about your study abroad experience
Registration:
Online registration is available here. The registration fee includes lunch and snack! More details, including the conference schedule are available on the registration site.
Schedule of Conference Events:
9:30am-10:00am Check-in and Resume Critique Registration
10:00am-10:30am Welcome and Introduction Activities
10:30am-11:20am Le Retour Video and Discussion
11:30am-12:30pm Concurrent Sessions
11:30am-4:50pm Resume Critiques
12:30pm- 2:00pm Lunch
12:30pm-2:30pm Opportunities Fair & Networking
2:40pm-3:40pm Concurrent Sessions
3:40pm-3:50pm Coffee/Tea Break
3:50pm-4:50pm Concurrent Sessions
4:55pm-5:30pm Closing Remarks